5 Transformational Trends Revealed at AURP Spring Training Conference
March 29, 2013 | By aleneolson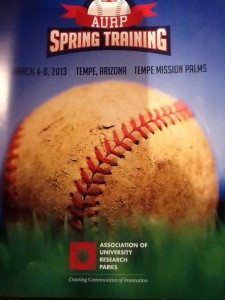 The Association of University Research Parks (AURP) brought together top senior-level research park professionals and revealed transformational trends and partnerships.  In a recent interview, Wayne O'Neill summarized the top 5 transformational trends as follows:
1.  Increase in "EB-5″ Program – U.S. Citizenship and Immigration Services administers an Immigrant Investor Program, also known as "EB-5,"  to stimulate the U.S. economy through job creation and capital investment by foreign investors. Under this program, certain EB-5 visas are set aside for investors in Regional Centers designated by USCIS based on proposals for promoting economic growth.
2.  Growing opportunities for private financing – Click here for details on business growth opportunities through public private partnerships
3.  More corporations are partnering with University Research Parks – University Research Parks have talents, innovation and funding.   Investors have the ability to  mentor, connect and provide seed.
Advice from Dr. Mung Chiang, PhD, "Couple early…Couple stronger. "  The challenge is determining the worst pain point using the least amount of cash and that sometimes that simple ideas are the cheapest and simple ideas are not in the DNA of university professors.  What makes university entrepreneurship so hard is that there is no team of CEO/CFO/CMOs and not knowing where the venture capital and angel investors live.  Investors want a team because success or failure is always one standard deviation above or below the line.  For more ideas and examples of partnerships, click here and read "Creatively Funding Higher Education in Today's Market."
4.  Escalating angst around intellectual property protection  – Who owns the intellectual property? the company who funded the research, the university where the new discovery/innovation took place, the student or team of innovators?
5.  Research to application to commercialization needs to go faster.  Speaker, Tim Bour, MBA, Executive Director of the Innovation Center of the Rockies said that researchers  do not have a robust enough tech transfer staff to optimize the engagement process of entrepreneurial companies…the root of jobs coming online is too slow.  Like a farm team for venture capitalists, faculty/tech transfer program manager / advisor or entrepreneur can then be commercialized.  The key need is an investable CEO player.  According to Tim Bour, incentives are needed to get innovation to go faster…from 15 years to 60 days.