Wayne O'Neill – Founder and CEO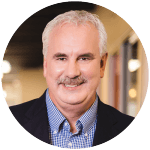 During his 25 years in the project delivery industry as a national and regional account manager for such companies as PSA/Dewberry, Bovis, and Gilbane Building Company, Wayne O'Neill noticed something troubling. He noticed that many service providers struggle to convey their complex and subtle value propositions to project owners, and owners struggle to identify valuable service providers. To help solve this problem, he launched Wayne O'Neill and Associates in 2005. This company helped bridge the gap between these two groups, creating revenue-growth opportunities and more sustainable growth for each.
In 2015, Wayne and his team expanded their proprietary coaching methodology to help more leaders and businesses across the country. This expanded vision became RESET.
Wayne believes that the traditional linear sales and marketing model does not work in today's marketplace. He addresses this problem by coaching a variety of levels in a firm to connect with targeted, Smart Clients instead. Service providers achieve multiple, sustainable, profitable streams of revenue from smart owners; and owners achieve the flexibility needed to adapt in today's evolving markets by identifying and leveraging the untapped sources of liquidity uncovered by smart service providers.
Contact Wayne —
LinkedIn profile | Phone: 832.725.3879 | Email:  woneill@resettogrow.com