Planning your 2014 Conference Agenda
January 06, 2014 | By Kevin Cray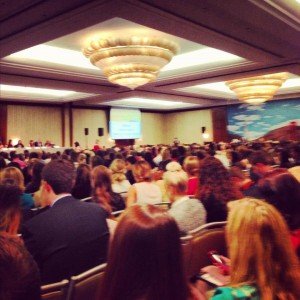 With the New Year upon us, most of you are planning out what's to come: the improvements you'll be making, the weight you'll be losing, and the areas in which you'd like to grow your career or business. When seeking to increase knowledge in your field, attending conferences and trade shows are often where we begin. But, don't just pick the conferences you'll attend out of a hat…
Develop a Strategy
Conferences or shows that you're going to attend this year shouldn't be chosen solely because you've visited it before or you know it well. Take a step back and consider developing a criteria. There are plenty of worthwhile events that you haven't attended in the past or know to be popular.
Ask yourself: What is your goal of going to this trade show or conference? It may vary, depending upon the one that you plan on going to. Maybe it's about building relationships, learning about trends in business and political issues in your industry, or your specific client set. Maybe you want to build brand awareness in a new market.
You've got to have some goals in mind.
Develop Criteria
Don't be afraid to ask meaningful questions. You need a better reason to attend an event than, "We go to this one every year." You've got to have some criteria. The following questions are a great place to start:
Who is going to be there?
What level of the organization are they in?
What are the topics?
What is already on the agenda?
Has the keynote speaker already been selected?
Are a lot of your partners going to be there?
Are any of your clients going to be there?
Are there opportunities in and around the event to set up smaller group sessions with other people who you could potentially leverage to bring new business or a "meeting behind the meeting"?
Are there a lot of exhibitors?
How much does it cost to exhibit there? Is there value? (There better be a LOT of value in exhibiting for it to be worth the expense and resources)
Are there other ways you could get exposure?
What kind of technology does the tradeshow have in place?
Is there a hashtag for the event?
Are they promoting and creating a conversation online about this show?
Do they have a social media strategy?
Are they being current and modern about the things they're doing?
Really think through and develop this criteria, then…
BRAINSTORM
Create a complete list of every conference or event that you'd consider attending this year. Keep track of topics, their main points, size, leaders of the industry, and potential clients that may be attending. This is a great time to ask for input for diverse members of your team. Ask your Marketing Manager, Inside Sales People, and Customer Service Team Members. Don't just limit input to people directly responsible for revenue generation. Other people on your team have valuable insight and should be invited to collaborate and be part of the process.
Then map it all out so that you can look at it in one place as a big picture, then you can drill out all of the details. Putting it on a spreadsheet is helpful. Then…
Decide
Do you want to attend?
Exhibit?
Sponsor?
What will you get out of that?
How can you leverage this event?
How much bandwidth do you have?
Do you have the capability to go to two events a year?
Do you have the resources to pull together four a year?
And be REALISTIC.
Really take a moment to slow down and be practical about the goals you're setting here, because they take a lot of time and a lot of effort. Having realistic expectations is important. It's better to do fewer events and be very effective at leveraging them than to do so many just to say that you'll be present at all of them.