Supercharge Revenue Growth
Fill out this form and request The Blueprint for Revenue Growth now!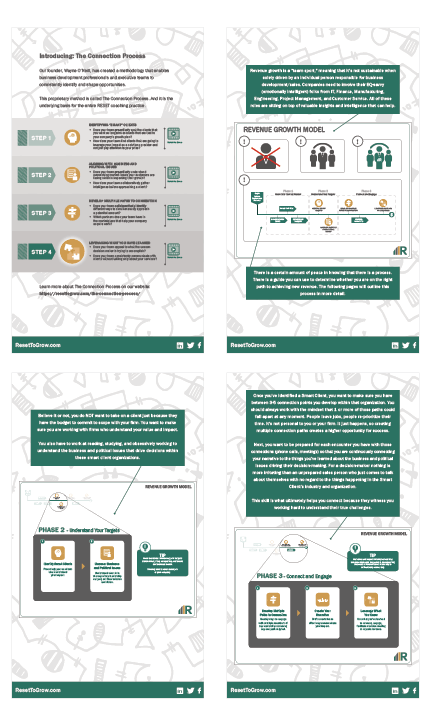 "[This] process and approach has helped us fine-tune our thinking, and forced me personally to step back to really understand the people who are in the room, their personal risks and fears. And also focusing on relationships as opposed to transactions."
Kurt Young, Principal, Walter P. Moore
"[Our company] realized that if we were ever going to grow and evolve, we had to change where we were positioned in the food chain. We didn't have a direct relationship with the end customer, which meant somebody else was driving our services. We recognized it was time for us to connect directly and create more meaningful and profitable engagements."
Steve Clarke, Division Vice President
– Buildings & Infrastructure, Jacobs
"Service Providers need to research industry trends and current issues, understand the owner's gals, the issues keeping them up at night, and the politics impacting their organization. When they do this kind of preparation, [they] are in a position to stimulate creative ideas to help the owner solve the problems they face."
Tom Paisley, Former Senior Health System Executive
"I recently worked with a service provider who actually showed that they care about what's going on in our organization, and showed interest in understanding our issues. As a result, I was willing to spend time helping them navigate through various parts of our organization. I recognized they were listening and responding to our specific needs."
Andy Draper, CIO, HCA Continental Division
"When trying to connect at higher levels of an organization, you can't underestimate the importance of communicating your impact and value. The natural tendency – especially for companies that sell software, or anything technically based – is to focus the conversation on features and functionality. I have found that when you slow down and take the time as a team to develop a narrative around your product's impact, it actually speeds up the process of connecting with decision makers."
Dave Mosby, Business Development,
BCS Performance Solutions
"A traditional (more linear) approach makes people feel comfortable because it's what they already know. But just because a process is comfortable doesn't mean it's effective. Developing business as part of a collaborative team is hard work and requires you to learn new habits and to be more transparent and trusting of others. I think that's an adjustment everybody who delivers
complex solutions needs to make because it's more aligned with today's owner's challenges."
Mark D'Arcy, Staff VP, Design & Construction,
Universal Health Services, Inc.