Wayne O'Neill Inducted into the SMPS Houston Hall of Fame
November 07, 2013 | By Kevin Cray

During the 2013 SMPS Houston Design Awards Gala, Wayne O'Neill was inducted into the SMPS Hall of Fame for his 25 years of service to the Houston Chapter. While Wayne has perhaps taken more of an "instigator" route, he has always been very closely aligned with the organization's overall objectives.

"The Society for Marketing Professional Services (SMPS) Hall of Fame recognizes the best of the best among his or her peers in the A/E/C marketing industry. These individuals have a long, rich history of success in the Houston built environment and have made a significant, indelible impact on professional services marketing and the Houston Chapter," says SMPS Houston Chapter President, Carmen Houston.

"Something I recognized early on in my career in this industry is that service providers really struggle to present technical information to a non-technical owner audience.  It was important for me to figure out the business issues driving needs for owners, so that I could better connect solutions to the things that would help solve their challenges," says O'Neill.

Prior to starting his account development coaching practice eight years ago, Wayne O'Neill held national and regional account manager positions for several leading companies in the design and construction industry, such as PSA/Dewberry, Bovis, and Gilbane Building Company.

O'Neill's long-time friend and former associate at Gilbane, Matt Daniel, had the following to say during his introductory speech during the awards gala, "Wayne is a non-linear thinker and his style is pretty tough to replicate. He is excellent at seeing connection points and coming up with creative ideas for adding value for his company and his clients."

"Not only is Wayne great at account development, he has always been extremely generous about mentoring and leading others around him.  When we started together years ago at Gilbane, Wayne would spend hours with me helping me improve my skills. He really helped me get to where I am in my career, and I know he's helped many others in this industry in the same way.  Wayne really impacted me to the point that I now try to mentor and support others on my team in the same way," says Mr. Daniel, who is now the Senior Vice President, General Manager of Texas Operations for KBR Building Group.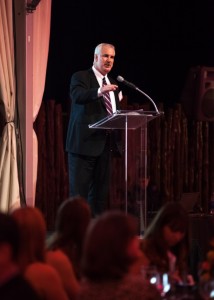 "When you mentor and guide somebody it reinforces mental health and good habits in yourself.  By helping the other person, you also help yourself. More personally, I realized that I got gratification helping others make this connection, which led me to start the coaching practice.  I try to show people that being good at account development is not just about being a good performer.  People just need to be themselves and focus on what value they have to offer to their company and to their customers," says O'Neill.
"Wayne is the quintessential coach. He's tough, but fair.  He challenges people and asks the tough questions that really push people to improve. But he balances that by always being very respectful, thoughtful and supportive. It's a unique combination, but that's what makes Wayne's contribution to the industry so impactful," says Mr. Daniel.
About SMPS Houston
The Society for Marketing Professional Services (SMPS) is a community of marketing and business development professionals working to secure profitable business relationships for their A/E/C companies.  Through networking, business intelligence, and research, SMPS members gain a competitive advantage in positioning their firms successfully in the marketplace. SMPS offers members professional development, leadership opportunities, and marketing resources to advance their careers.
Founded in 1981, SMPS Houston is one of the most active and respected chapters in the country. One of the top 10 chapters in the country, SMPS Houston has more than 200 members representing more than 170 firms in the AEC industry.
For more information, visit: http://smpshouston.com