True Impact Comes When You Stop Selling and Start Connecting
October 21, 2013 | By Wayne O'Neill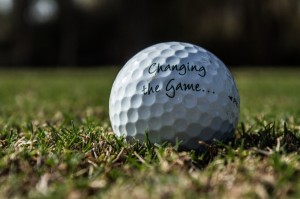 I recently read an article in Golf Digest (yes, I'm showing my hair color) in which professional golfer, Jason Day, stated this simple fact: Swinging [the club] harder is not the best way to drive [the ball] farther.
Sounds counter intuitive, doesn't it? Well, the keys to hitting a golf ball farther and the keys to effective account development have more in common than you would think.  Because just simply getting out in front of more prospective clients (swinging the club harder) is not the best way to generate profitable revenue (drive the ball farther).
So let's hook into this parallel:
DRIVING THE BALL FARTHER (GOLF) = GENERATING PROFITABLE REVENUE (ACCOUNT DEVELOPMENT)
And using the 4 pieces of advice on driving the ball farther from Jason Day in the Golf Digest article, here are the detailed equivalents for success in the account development realm.
Setting up Right (golf) = Gathering Information and Sharing It (account development)
What magazines, blogs and industry-specific news websites do you read? Which thought leaders do you follow on social media? When you research and gather information and learn the "business & political issues" of the industry or market segment you want to pursue, and then share that information along with your insights with others on your team, you are SETTING UP RIGHT.
Getting Things Going (golf) = Identifying the Problem Behind the Problem (account development)
Prospective clients will likely outline a list of needs they have for you to meet.  For example, if you are a software company, they will give you a list of features they are looking for.  Don't limit yourself to that list. Ask why.  And then ask why again so that you truly understand the business needs and internal political drivers behind their request for your software. It may be that you offer more than they realize through other modules of your software that aren't part of the conversation, or through strategic partnerships you have with other software companies. Peel back those layers and identify the "problem behind the problem"…then you are really GETTING THINGS GOING.
Moving Back to the Ball (golf) = Engaging your Clients (account development)
Now that you understand WHY the prospective client needs your product/service, it's important to explain the impact and value your products can deliver. When you engage in this way, you are creating and authentic connection with one another. Each party must realize value in the exchange, or it will never be more than a one-time occurrence, not a true connection. Stop relying on winning business simply because you have a list of features that meets their needs.  Or because you went to the same college, like the same golf courses or find the same movies humorous – all of which I call seductive indicators.  Win business because you can actually bring impact and value to their situation – which I call engagement indicators.
Finishing it Off (golf) = Create Multiple Paths to Connection (account development)
Just as you choose multiple clubs as you play golf, you need to listen to diverse viewpoints.  Create opportunities for input and "buy-in" from multiple roles in the prospective client's organization.  An engineer's interest and understanding of a product is quite different than the purchasing department's.  When you create multiple paths to connection with a company, you adjust your value and impact statements so that they have relevance for each audience and situation.  Ultimately, you give them each their own visibility into the impact your product can make.
So Here's the Bottom Line…
Don't…Approach the Tee and Swing as Hard as you Can (golf) = Respond to as Many RFPs as You Can (account development)
To be effective at account development:
Gather information and share it
Identify the problem behind the problem
Get engaged
Create multiple paths to connection
When you follow these steps you will connect, and show your company's business value. And that will translate into profitable revenue.