The Power of Connecting vs Touching
June 18, 2012 | By blea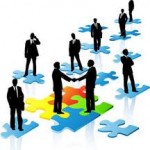 Overwhelming evidence proves that establishing deep relationships with a prospective client's key executives is a mandatory prerequisite for success in selling services related to capital programs.  In fact the successful proposer has cultivated a champion with clout before the formal RFP process begins on more than 80% of his or her winning pursuits.  How do we know this?  Thirty years of experience is a starter, but my colleagues and I have verified our experience with a half dozen formal studies conducted in multiple regions of the country over a twenty year period. In fact few experienced business developers would even question our assertion.  What must be accomplished is clear. But how is it done?  How can you tell if you're making progress?  If you're managing your firm's sales program, how can you tell if your teams are making any real progress toward developing successful relationships?  Today, the answers lie in understanding the power of creating connections.  And I mean connections in the executive suite and board room, not on the golf course.  Let me explain:
In the past managers tried to develop benchmarks or metrics – tasks that can be counted, boxes to check. Therefore,  they began measuring the number of contacts or touches required to develop a new client relationship. It's a ridiculous exercise for many reasons but the most important is this: a touch or contact is a one way exchange. On the other hand, a connection is a two way exchange. One person interacts with another to create a connection. Each party must realize value in the exchange, or it's a onetime occurrence. Proof that a connection has been made exists when value laden exchanges occur repeatedly.
For example, assume I get a meeting with a hospital CEO to present my firm's world class capabilities to design his next bed tower addition. At the end of the meeting, he agrees my firm is great, says he's sure my firm will be considered when the project is ready to go. He urges me to give my presentation to his VP of Facilities and promises they will be in touch when the time is right. That is certainly a contact or touch, but is it a connection? Probably not. The answer will come when I try to get another meeting two or three weeks later. If suddenly his calendar is full, or it's "premature but do stay in touch with the VP regarding our status," then you can be sure no connection was made.
I can play games with myself and my manager by touching or contacting the CEO. How?  I can attend the next hospital association meeting and chat with him during the reception. I can arrange to be in his foursome at the charity golf outing. I can drop him a note when I read that his daughter passed the state bar exam. All very nice, but there are at least a dozen other BD reps doing the same thing. I'm checking boxes, but I'm not really positioning to win. And how does the CEO feel about all of these touches times twelve? (A teaser – that will be the subject of my next post.)
The default strategy to build a relationship has often been social. Take the CEO and his wife to dinner. Play golf with him at an exclusive club. Treat him to a fishing or hunting trip. I like all of those activities. I want to believe they can give me insights into the CEO's character and personality, but is that really a strong basis for a business relationship. Will a CEO risk her career by awarding me a contract because we had a nice round of golf, and if so, do I really want her as a client?  I doubt it.
My colleagues and I believe that in today's market, the path to business relationship is through making legitimate connections around an understanding of the business and political issues the CEO faces in building a stronger, more successful institution. Suppose I can learn, for example, that powerful doctors oppose key elements of his strategy, or perhaps the hospital's cash flow won't support the next major initiative, or his major competitor has made moves that threaten to block him in an unfavorable position. Now if I  – alone or collaboratively with others –  can bring ideas for potential solutions to issues like these, I  will likely have a much different meeting from the one I described earlier. If at the end of the meeting, instead of sending me to see the facilities VP, he says something like, "when can you flesh out these ideas and get back to me…I'd like to meet again and have our chairman or CFO or Chief of Surgery be part of this discussion….when can you arrange for me to meet with your CEO client at "cross state" hospital  to talk about how she implemented these ideas…," then you know you have a connection. More important, now you know you're moving forward, progressing toward success.
In a meeting like this, the architect must resist talking about design; the construction manager must resist talking about how he completes his progress on time and within budget. There will be a time and place for discussing all of these, when they become the issues at hand. Neither design nor  construction is the issue now, however. In that sense, the CEO who puts me off because "it's premature" is telling the truth because he doesn't see my firm as relevant to the issues he must face first. If I make my firm relevant to the issues on the table now, however, I will be able to stay engaged with the decision maker until the cows come home, meaning, of course, until the design contract is awarded, the project is complete, and we're seeking solutions to the next round of business and political issues. A smart CEO perceives very little risk to his career by awarding a design contract to a trusted advisor who has helped find solutions to his most pressing business and political issues.
This is the power of establishing connections – and the folly of counting touches.
Stay tuned to these blogs to read the reactions of CEOs to the issue of connection versus touches and the power of solutions to business and political issues as the basis of relationships.