Why Skill Development Is the Key to Your Success in the New Year
December 06, 2016 | By Wayne O'Neill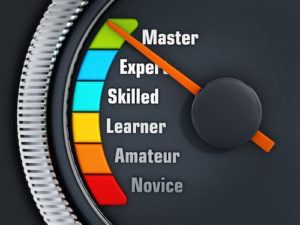 At the end of the year, people often get focused on assessing results. They determine if they have had a winning record, if they've sold more accounts, if they've increased revenue by a certain percentage.
They get obsessed with lagging indicators.
These might be the numbers you report to your superiors or your stakeholders, but there's something else you should be assessing right now, too:
The underlying skills of your entire go-to-market team.
Yes – your entire go-to-market team. Not just the business development staff. Not just the marketing folks. Everyone who has an impact on securing and developing revenue with clients.
Here's the deal. If you have just a few people who, on a scale of 1-10, are hovering around a 5, they can drag down the entire team. They can impact your ability to grow revenue.
The skills of the individuals on your team need to build and improve over time, or your business growth efforts will be stifled.
This is something leadership teams don't give enough attention to, but really should.
Think about it like professional athletics. If an individual is not growing their skills, they're losing their skills – and one under-skilled person can affect how the entire team performs on the field.
Your go-to-market team's skills are a leading indicator of your success in the new year. Their skill development will create or stop your growth momentum.
So while you're setting aside time to look at your 2016 business results, I want you to also set aside time to assess your go-to-market team.
There are three categories you need to consider for each individual.
Skill #1: Knowing the Market
Does the individual know the business and political issues that surround your target clients?
Do they know where your clients "live" in their market?
Do they understand stewardship to equity? Can they recognize an opportunity to leverage existing assets to attract equity or create operational savings to creatively fund a project?
Knowing the business and political issues that surround your target market is a critical skill that impacts the connection process. Being able to identify sources of funding will help move your clients forward in the sales process while securing you a mutually beneficial, long-term account relationship.
Skill #2: Understanding Clients
Does the individual know how to identify a smart client?
Can they connect with clients in a variety of ways – not just the traditional technical procurement way?
Do they know what your firm's impact is – not just the product or service you sell, but how they can directly impact a client?
Your clients don't care about your company – what they care about is how you can make a positive impact on the business and political issues they're facing. If you can't make an impact on those things, you're just visiting. This is how we fool ourselves into being activity driven instead of strategic.
Skill #3: Matching Your Firm's Impact With What the Client Needs
If the individual understands the business and political issues of your client's market, and they know the impact of what your firm does, can they match those two things up when they engage with a client?
Can they create a narrative around connecting with the decision-maker, internal champion or the person who can help you navigate the culture of the target client?
Can they asses quickly if the client relationship will be fruitful, or if your firm is wasting its time on a relationship that won't bear fruit?
Once again, your client cares most about how your firm can make an impact on the business and political issues they're suffering through. Ensure the individuals on your go-to-market team can speak to this, that they can craft a narrative beyond "this is the product we sell," and that they can show the client how working with your firm will impact their lives.
The Bottom Line
Lagging indicators (sales results and goal outcomes) are what you report to your stakeholders. Leading indicators (the skills of your individual team members) will help you plan for next year's success. They are equally important, yet so many leaders neglect the latter.
When one part of your go-to-market team stops being creative in how they connect, and start slipping back into their old ways, you'll see your team losing again very early the following year. Your momentum is anchored in skill development. Don't lose that momentum!