Rethink Customer Relationship Management Systems
October 17, 2013 | By Wayne O'Neill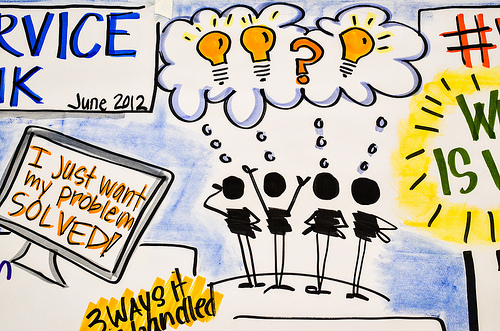 Many businesses have adopted a strategy for better customer relationships. It's simple: they gather information about current and potential customers, input the data in software systems, create algorithms, and those algorithms make up readable information that leaders can use to influence future business decisions. The tough choices managers have been making all of these years are boiled down to information that a computer spits out. So easy a caveman could do it, right? It's time to rethink CRM.
The problem is, this is inherently flawed. Relationships cannot be managed through systems. Is there such a thing as a Marital Relationship Management System? Parental Relationship Management System? Of course not. Assuming that interactions with customers can be systemized is taking away from them being human.
The Illusion of a CRM
The thought process behind the traditional CRM system is this: if we have their information and utilize it in personalized materials, we can give the illusion of a relationship. This is a game that is all about appearances, but guess what? We live in an age of transparency, and this is anything but transparent. Your customers see it—you're not fooling them. And in the meantime, you're coming off as disingenuous. That's the opposite of maintaining a relationship.
We've Got the Numbers!
The second flaw is that a traditional CRM supports the "numbers game" with an assumption that if you're able to present to enough companies, a certain percentage of them will move through your sales pipeline and eventually "close". Leadership examines the pipeline to predict how much business will close each quarter. The focus is on numbers and not the quality of those numbers. When you don't track the important pieces of information (like whether or not you have the right connections into a company, or whether you have a grasp of their industry and political issues), you may not really be looking at a pipeline report that carries significance.  Wouldn't it be better to approach less companies – therefore spending less resource – who have a genuine need and interest in your product/service?
It's easy to get disillusioned. You've got so much data. You have a leg up above your business ancestors, and you want to use it and streamline business. Right? Right. But there needs to be a well thought out, decision-making driven process of deciding which data is valuable and how it can be leveraged to create a meaningful connection.
Simplicity. Authenticity.
What you need is to use simple algorithms to determine whether or not you have an authentic connection. When your goal is to create a partnership, the questions you have can be boiled down to something simple: Who is an influencer? Who can navigate you in the direction of that person? Do you really understand the business and its political issues that would interfere?
That's what our company's Executive Intelligence Dashboard does. It is a simple place to organize the smaller accomplishments needed to achieve the overall goal. No fluff—just a place to go to input whether or not you've completed the steps. When you have the impactful information you need, a big-data-fueled machine of a CRM may not be the solution you're looking for.
Here's the Bottom Line…
Pure data and information gathering is dead. Now is the time for a breakthrough of meaningful connections with customers as people.
It's not about being anti-data—it's about using the right data to create knowledge understanding on a deeper level.
You need someone who excels at connecting the dots and helping you decide on the data needed to achieve your goals. That's where we come in.