RESET: Client Intelligence Starting Points
October 20, 2014 | By Kevin Cray

In this video, Kevin Cray talks about the gathering and organizing of client intelligence that can help you connect.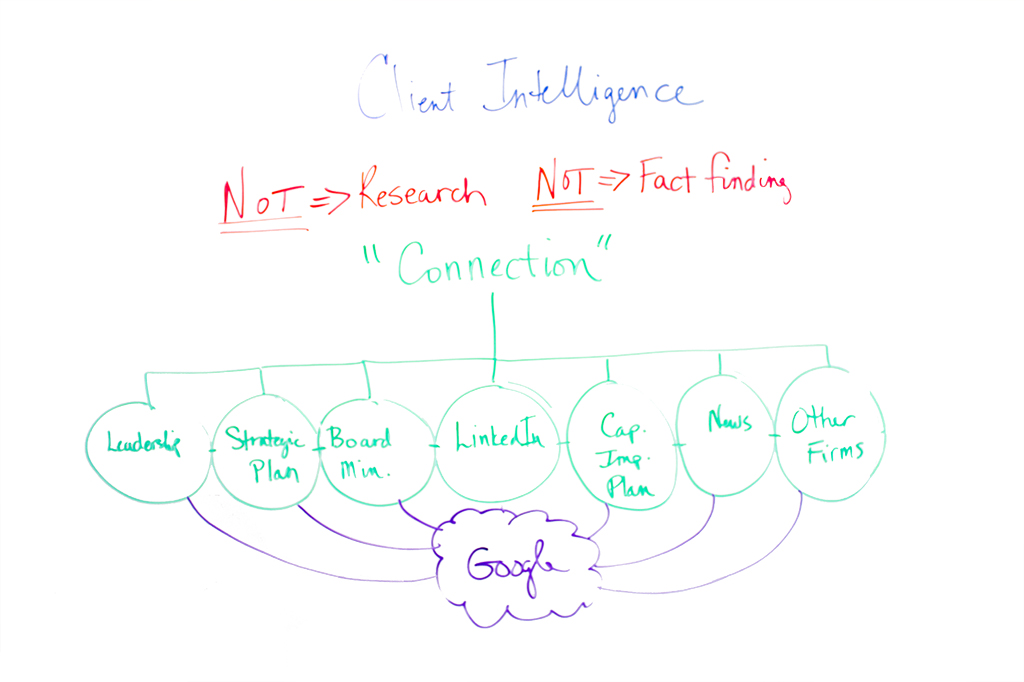 My name is Kevin Cray and I am a project manager for Wayne O'Neill & Associates. I work on a day-to-day basis with business development teams helping them drive progress on capture planning and revenue generation.
What I would like to talk about today is how to leverage the power of gathering client intelligence.
First off, let's start with a definition. Client intelligence is NOT just "research" or "fact finding".
That might be a little bit of the case, but gathering client intelligence is all about making research and facts actionable while connecting dots that lead to the identification of multiple paths to building an account, as well as discovering the emotion that might be driving their decision making process.  You might be thinking, all of that seems like fluff, so let me walk you through an example of what I mean.
Let's use a university for example. The first place I would recommend you look at is the makeup of the leadership team. Read their bios, search for them on LinkedIn and get a good idea of their backgrounds…it's always good to know whether they are operational savvy or financial driven decision makers. In looking at their work history, have you or your company done work with an institution where they were at. Also, take a look at industry organizations that they are involved in and take a look at the content of the agendas for the conferences those organizations have. Typically people with the same sort of issues are usually involved in the same circles.
Information on the University Strategic plan, gives you an idea of their core values and where they want to be in their marketplace. Most universities have board meeting minutes available for online viewing, which can let you know what is on the minds of some of the key stakeholders and also can give you some insight to companies doing work with them. Take a look at LinkedIn. Do you have any connections to anyone at the institution, or do you know people that have connections with people there? You can also look for their Capital Improvement Plan, which might give you some insight into some projects that might be "stuck". Another place to get some insights are from newspapers, whether they are the local paper or the student paper. Getting an understanding of public views of what is going on can be very helpful.
Lastly, look for other companies that might be doing work with that client. Things like Linkedin and looking at board meeting minutes, can provide you with other companies that might be able to help you with their client intelligence. Finally, I am going to give you a secret tip, that is overlooked by many, but can provide some of the best traction—simply Google the institutions name and case study in the same search. If you find case studies that other companies have done on that client, 1, they are trusted by the client to tell the story and 2, more than likely, they are connected to decision makers.
Now, client intelligence gathering is only one step to building sustainable accounts, but it's one of the most crucial parts because it can help you develop multiple paths to starting relationships, it can help show authenticity and ultimately being effective at cultivating and connecting dots on client intelligence can add speed to your sales process.