Paving the Way for Sustainable Business Solutions
May 28, 2013 | By Wayne O'Neill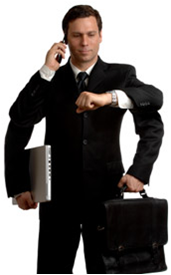 In our fast paced world of business, almost everyone does it…multitasking.  The more we get into technology, the more we attempt to multitask, also known as switch mindsets or trying to do two or more tasks simultaneously.  It seems like it works.  I am as guilty as anyone.  But here's the problem…it's a huge illusion.   Hard research shows that multitasking dramatically decreases effectiveness.  Likewise, chasing too many things at once does not help your business productivity, and certainly does not pave the way for sustainable business solutions.
Stanford researcher, Clifford Nass, conducted a study on 262 college students to perform three completion experiments involving:  1.  switching among tasks, 2. filtering irrelevant information and 3. using working memory.  He and his colleagues went into the study believing that those who multitask frequently would do better at completing the experiments.  The opposite was true.  Chronic multitaskers were less effective at all three tasks.   To his surprise, Nass concluded that frequent multitaskers use their brain less effectively.
In another study, neuroscientists at the French medical research agency Inserm discovered that our brains can really only handle two simultaneous tasks at a time, one for each side of the brain.   Taking on more tasks only increased the likelihood of mistakes.
Nass recommends the "20 Minute Rule."  Focusing for 20 minutes at a time on one task is more productive than switching tasks, minute by minute.  His second tip is to minimize time spent emailing.  If you have quick question, ask it face-to-face or pick up the phone.  In a University of California, Irvine study, Gloria Mark and Stephen Voida, concluded that employees were less stressed when they decreased time spent on email.  When employees only checked email on a few scheduled times during the day, they spent more time focused on one task and minimized multitasking.
Similarly, when I coach clients, I often suggest they chase less and examine what behaviors and habits capture peak productivity.  By changing a few behaviors, you will be less stressed, more mentally organized and improve productivity.
Bottom line, you can focus to create sustainable business solutions for yourself and your company.