Are YOU a Moneyball executive?
January 22, 2014 | By Wayne O'Neill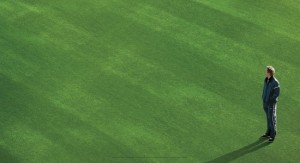 I'm always looking for the latest trends, trying to figure out what'll make a big splash in an industry. When I came across this article, Big Idea 2014: You'll Be Replaced By A Moneyball Executive (Unless You're One) by LinkedIn Influencer Jordy Leiser, it struck me. We've been seeing this happen in the industries in which we coach. Maybe you've seen it yourself, or you're feeling threatened that you're next on the chopping block. You've wondered if you're a Moneyball executive, but how can you be sure? Ask yourself a few questions to determine if you're the type of executive that'll weather this climate.
Are you adapting?
In Moneyball (watch the full movie here), Billy Beane's first move toward making the Oakland A's a winning team wasn't an action, it was a state of mind. He saw the challenge that they faced: the scouts were consistently going after the same type of players that they had always gone for—or, worse—that other teams with higher budgets were going for. Moneyball executives have a willingness to change when they see that something isn't working out for them.
Are you adopting?
Sometimes you've got to look outside of the box. Many people are used to using the same tools to get the same job done, and even when that stops working for them, they struggle with adapting and adopting the strategies that are often right in front of them. Peter Brand, who advised Beane with the algorithms that influenced his team building, pointed out the inclination to stick with the old when he said, "Baseball thinking is medieval, they are asking ALL the wrong questions. And if I say anything about it, I'm ostracized."
Whether you need to Rethink Customer Relationship Management Systems to better manage relationships with your customers or you're utilizing mathematics to build an all-star baseball team, Moneyball executives use the right tools.
Are you adamant?
Throughout the movie, they cut to clips of sports commenters talking down the A's, Beane's management style, and the Sabermetrics that were used for their strategy. They even went so far as to comment on the credentials of the originator of the philosophy, and said of Beane, "The experiment has failed."
Despite their comments, the initial lack of success, the threat of his position and livelihood, Beane, led by Brand, was committed to the new strategy. Why? Because he knew what they had before just didn't work. In the end, (spoiler alert!) you'll have the rollercoaster of feelings that an underdog film promises when they break records, disappoint, then warms your heart. All that mushy stuff—because exposing what is hiding in plain sight is a lonely, emotional journey and a Moneyball executive has to be resilient despite all of that.
What else?
A Moneyball executive knows how to connect, who they should connect with first, tools they can use to connect, and how to leverage what they're already doing. When they see flaw in what they're currently  doing, Moneyball executives aren't afraid to ask questions. They don't get caught up in numbers games, they slow down, and they consider what they're going to do before they do it.
Here's the bottom line…
It's compelling because it's not about baseball. It's about finding what is hiding in plain sight. Are you in the lab business? No, you're in the risk mitigation business. Are you in IT? No, you're in the connections business. All of those subtle things—it's about thinking about the problem you're really trying to solve. Because the A's weren't just needing to replace three key players in their lineup, they had a much bigger problem to solve.
And the real punch line is that the Oakland A's started all the Moneyball thinking buzz. But the team who really capitalized on that thinking and broke "The Curse of the Bambino" was the Boston Red Sox, when they won the championship in 2004.