Managing Multiple Generations for Effective Collaboration
April 08, 2013 | By Wayne O'Neill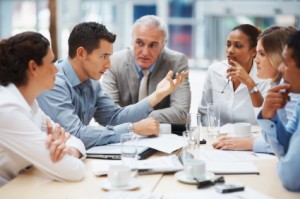 The "traditional" business model is no longer working.  Why?  Competitors are now global and come from younger, fast growing markets who approach business differently.  Overarching these challenges is the need to successfully manage today's multi-generational workforce.
Whether you are trying to hire just the right person to your team or work more effectively with leadership, you need to appreciate the qualities that each generation brings to the table.   Compare the four generations to better understand their values and expectations.  By taking time to understand where each generation is coming from, you can learn to draw upon strengths, decrease frustrations, and work more effectively together.
Builders (1922-1946) tend to be:
Civic minded and value duty, tradition, and loyalty
Practical and built most of the U.S. infrastructure
Dedicated Work Ethic – Produce quality work
Leadership by hierarchy with command and control
Respect authority, seniority and job titles
Seek approval of authority before making decisions
Willing to sacrifice personally for their country and company
View work as an obligation, but like to be honored with plaques & symbolic records of achievement
Expect courtesy
Change=something's wrong
Build a legacy
Linear work style – go from A to B to C –  used to sitting at a desk and working 9 to 5
Baby Boomers (1946-1960) tend to be:
Team oriented yet value individuality and tolerance
Optimistic outlook on the future
Focused and take pride in being hard workers
Like recognition for accomplishments
Driven / strong work ethic – committed to do whatever it takes to get the job done, compete, and excel
Love/hate view of authority
Respect hierarchy and seek to discover alternative ways to get results
Vision how things ought to look, feel or be in order to accomplish the end result.  (Other generations sometimes view this as micro-managing.)
Like to be "hands-on" involved
Willing to make sacrifices for the good of the "the company" or "the project"
Relationship oriented; soul searchers
Leadership by trying to form consensus, but will move on, if consensus is not attained because the overall purpose or mission is more important than the consensus.
Change=calculated risk takers; change agents
Build a stellar career
Structured work style
Gen X (1960-1980) tend to be:
Self-reliant; independence holds a strong value
Pragmatic and value being savvy
Skeptical outlook of the future
Unimpressed view of authority
Reluctant to make commitments
Must require them to attend meetings or they may leave
Constantly seeking the best technology, adventure holidays, extreme sports, toys and time off
Outcome oriented, yet flexible and adaptable if the given specific goals and some resources
Balanced work ethic – want "a life" – value time to play and be healthy to balance out work
Leadership must show competence in order to be worth listening to
Dislike being micro-managed by boomers.  Believe in doing their job without needing daily praise or feedback
Thrive when given projects they can control, prioritize and juggle
Change=potential opportunity
Build a portable career
Informal work style
Gen Y / Millennials (1980-2000) tend to be:
Confident, frank and open about their expectations and desires
Value authenticity and autonomy
Hopeful outlook of the future
Polite view of authority
Inclusive relationships and diversity is the norm
Expect feedback on demand
Want flat governance and expect higher levels of hierarchy to listen to their viewpoints and suggestions
Optimistic and goal-oriented, especially with work they consider meaningful
Committed to collective action for the greater good
Enjoy collaboration, networking, and multitasking
Digitally native fast-learners and embrace emerging technologies
Well educated; seek mentorships, training, and knowledge to eliminate ignorance
Expect work-life balance within their day
Determined work ethic – used to having their opinions solicited, listened to and acted upon
Like open avenues for education and skills building and organized group outings
Eager to add value by offering new solutions and creatively leveraging technology – flips roles by teaching superiors how to use technology
Respect leaders who demonstrate competence
Leadership by pulling together inclusively
Change=improvement
Build a parallel career
Fluid work style – may arrive to work "late," leave during the day to run errands, submit reports remotely and work from home at night.
In answering the question, "How can I get different generations to work together?", Kathy Caprino, founder/president of Ellia Communications and author of Breakdown, Breakthrough, recommends
5 Steps that Lead Generations to Effectively Collaborate, Support and Contribute:
1.  Learn & Understand – Study the values and motivations of each generation.
2.  Respect – The key to working together is respect for all individuals, and their right to their own beliefs, values, customs, and ways of operating.  Create a culture that values multi-generational perspectives in order to draw upon the strengths of each.  Be open minded about how work is performed.  When faced with the conflict between generations, instead of choosing to escalate and assert one's position, seek to understand and find common ground.
3.  Share & Explore – Build a structure for open, candid dialogue and exchange between employees through such avenues as:   lunch-and-learn programs, networking and socializing opportunities, off-sites, training and educational programs.  Create pathways for communication and education that encourage everyone to address their generational problems directly with those they work with.   For additional information on how to keep employees happy and productive, check out our blog:  "Employee Satisfaction…Does it improve your ROI?…Is it worth the investment?"
4.  Leverage through Collaboration – Instead of trying to hide or suppress differences, pair up individuals of different generations in teams, and allow them to discuss how they see their shared projects and how they would execute them.  Help them complement each other's styles and capabilities to collaborate in a way that makes the whole greater than the sum of its parts.
5.  Bridge the gaps – No one generation or individual has all the answers.  There are gaps in individuals' capabilities, views, values and priorities.  Bridge the gaps by helping each generation understand the value that each generation brings to the table.  Do not tolerate anyone labeling another "wrong" for expressing one's views.  As a co-worker, you don't have to adopt someone else's style, but in order to move forward, identify the differences and find a way to integrate how work and progress will be viewed, executed and achieved.  As the leader, empower each individual to bring their authentic self to the table and let them know they are valued as an individual but expected to collaborate as a team.  Demonstrate how collaborating as fully as possible with others brings innovation and grows your business.
The point is that each generation possesses skills and drivers that can be complimentary to a team and has a treasure chest to offer any organization today.  The challenge to any CEO – whether a Baby Boomer, Gen X, Gen Y or Millennial – is how to maximize those individuals' potential, and how to do so in harmonious, mutually respectful teams.
References:
"3 Things to Look out for when Making a Job Offer to a Gen Y"  by Adwoa K. Buahene, March 21, 2013 ngen: the next generation of people performance
"How Can I Get Different Generations to Work Together?"  by Kathy Caprino of Work Reimaged http://workreimagined.aarp.org/2013/01/how-can-i-get-different-generations-to-work-together/?goback=.gde_4466073_member_208847130
"Defining a Generation:  Tips for Uniting Our Multi-Generational Workforce" by Dan King of Career Planning and Management Inc.   http://www.careerfirm.com/generations.htm
"Generational Differences At Work" http://www.slideshare.net/lbusby/i-m-ok-you-re-ok-r15-generations-at-work
"Generations in the Workplace in the United States & Canada" Catalyst  May 1, 2012  http://www.catalyst.org/knowledge/generations-workplace-united-states-canada
"Conflict and Generations in the Workplace" by Jamie Notter, ASTD -world's largest professional association dedicated to training and development,  March 6, 2013
http://www.astd.org/Publications/Blogs/Workforce-Development-Blog/2013/03/Conflict-and-Generations-in-the-Workplace