Leveraging Trade Shows and Conferences
January 13, 2014 | By Kevin Cray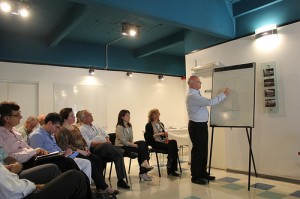 Once you've made the decision to go to a trade show or conference, you should take some time to consider how you can leverage your attendance before, during and after the event.
Before the event
Don't just consider what you and your team will be doing when you arrive. Consider who else is going to be there that represents a path to a goal. Goals could include gathering information about: a target client, work, or business and political issues in an industry. Think strategically about these people. You all are going to be in the same place at the same time.
Identify:
Are there partners who are going to be there?
Who are the people within those partnerships?
Are there leaders in the industry who you've always wanted to talk to, listen to, and pick their brains?
Who on your team is going to attend the event?
Is there a list of who is registered? If so, take advantage of it and identify people/potential customers you would like to meet.
Are there any gaps in the schedule where there may be time to organize a "meeting behind the meeting"?
You should also take time to do some research on the presenters and board members of the conference association. Some key things to look for:
Have you done work with any of them before?
Do you already know a specific presenter? If so, do you know the other people they are presenting with? (Easy way to get an introduction)
Would your service offering compliment in any way with services their company provides
Do you have some of the same customers? (This is a good topic to generate a discussion with them)
Do you have any common connections on LinkedIn?
What other companies in the marketplace have they worked for?
On the marketing and branding side, you should consider how you are going to promote that you're attending this event.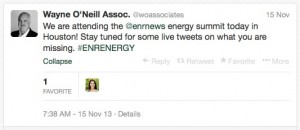 Some steps to consider include:
Write a blog post about the upcoming event
Create an event on Facebook to invite people to meet with you while in town for the conference
Tweet about your plans to be at the event with the official trade show or conference hashtag, if one has been determined…and if one hasn't been determined, you may ask the show organizer to establish one
Share it on your LinkedIn company page
Sharing it in your circles on Google+
Have your staff promote who will be attending the event in their personal social media circles
Retweet comments made about the event
Promote the keynote via social media
Connect via LinkedIn and Twitter with other interesting individuals who will be at the event. Explain to them why you'd like to connect. Ask them why they are going, what they hope to learn, what they think looks interesting.
While you're at the event
By doing more than taking private notes on what the speaker discusses, you can better leverage this trades how or conference while it is in session. Share the knowledge that you're gathering with the people that are following you on social media by live tweeting the speakers. Use the official event hashtag if one is available and tag them with their Twitter handle.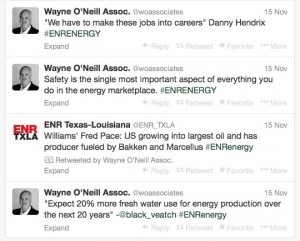 By using the hashtag, you're able to build a following and demonstrate your knowledge of the current issues within your industry. Look at who else is using the hashtag and determine ways to connect with others on social media who are at the event. Do you have an opportunity to get together with them and leverage one another while in the same city? They could have different skill sets and know something about a client that you wouldn't have known otherwise.
The follow up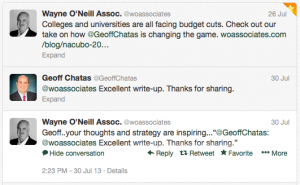 Following up after an event doesn't end with gathering leads you collected from the booth you set up, and calling or emailing them later. Create content about what you learned. Write a blog post about your three biggest takeaways from the event, and post it while it is still fresh in other attendees' minds. You could have learned something someone else didn't, and your additional insight ma give them a different perspective of the information. Share it on your social channels, using the event hashtag, tag the host organization, and encourage your team to do the same.
Is there any value in talking about creating contact cards for business cards you get?
Are there any people you would like to connect with on LinkedIn? Look through all of the business cards you gathered…
The point is to make the very most of your attendance at an event. It's not about showing up to a conference or trade show just to say you did and check it off a list. Leverage and make the most of it with your primary goal to learn business and political issues and look for opportunities to connect with your partners, your clients, potential clients and industry leaders while you're there.