Increasing Profitability: Plenty of Work But Low Profit
July 01, 2013 | By Wayne O'Neill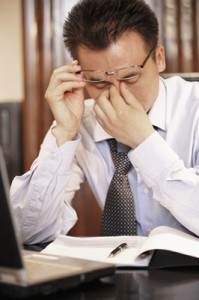 If you want to generate revenue and increase your profitability, then you need to read this!  This is Part 2 of our game changing series "Top 7 Signs Your Company Needs to Change" alerts you to the red flashing signal "You have plenty of work, but profit is low." If you have hundreds of projects but you are barely making your revenue goals, your profit margin may be too low. In reality, you are undercutting your own profit margins.
Here's What Seems Great, but is Really Wrong
Cash flow is high BUT profitability is low.
Your team is endlessly occupied, yet you do not seem to be getting anywhere financially.  If this scenario sounds alarmingly familiar, then you may be subject to the deception of high cash flow. Consider this: If you have hundreds of clients paying a smaller amount financially, you will indeed be busy, but there won't be much cash left after expenses to financially reward your hard-working team.
You are busy BUT you have not properly positioned yourself for growth.
You have lots of work, but you are not growing.  If you only look at generating business from a single perspective, your options will be greatly reduced. For example, if your go-to clientele has always been in one single market, at some point your team's efforts will have saturated that market. Do you just accept that no one from that market is responding to your work and wait around for interest to arise again in the next industry cycle?
You have a few high revenue-generating clients BUT if they left, you'd be in a world of hurt.
Without some high revenue-generating clients, most organizations resort to bidding on more work with the same low margins, which creates a high stress environment with a lot more projects, and takes up a lot more time and resources. By going after more work in a hectic fashion, there is less attention focused on your next higher margin clients. What kind of impact does this activity have on your current operations model? How will it effect the next generation of employees?  Who are you most interested in working with and for?
So here's the bottom line…
Choose smart clients.  Select clients who are able to see that your product or service provides a business solution.  If a client only sees your product or service as a commodity, then you lose because then it becomes a transactional rather than a sustainable business relationship. You may have to look in an unexpected market to find this new type of client.
Diversify the auxiliary offerings around your core service.  Think of the impact of your core service, but don't stop there.  Consider developing auxillary offerings that diversify your core service internally.  Another option is creating external partnerships with companies who will ultimately act as your "allies" and protect your flanks.  Having someone else stand up in partnership with you during the delivery of a project is a loud message.
Hire and attract different types of employees.  Diverse employees with diverse opinions will cultivate more innovative solutions and multiply pathways to revenue. Never underestimate the creative powers of employees with different professional backgrounds or demographics. Their insights, experiences and business connections can generate client relationships in new markets and lead to increased profitability.
Coming:  Part 3 of our game changing series "Top 7 Signs Your Company Needs to Change" alerts you to this red flashing signal:  You frequently hear "But this is how we've always done it."   Check back for the bottom line on this issue and sustainable business solutions.
Here are links to the game-changing blogs in this series:
"Employee Retention: Why Good Employees Leave"
"Dealing With Resistance To Change:  What To Do When You Frequently Hear "But We've Always Done It That Way"
"You Find Yourself Very Alone:  Growing Your Business Partner Network for Impact and Value"
"Compete on Value, Quality and Impact, Not On Price"
"Business Development Illusions If BD Falls On A Few"
"Reduce Business Stress If Management Anxiety Is High"