Healthy Culture…How Organizations Rise or Fall
October 01, 2012 | By Wayne O'Neill

The health of a culture can make or break an organization.  In "The Biggest Companies of the Inc. 5000" and in Fortune magazine's "100 Best Companies to Work For" there are consistent themes.  These companies: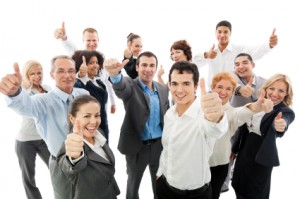 1.  Consistently outperform their competitors
2.  Invest in leadership development
3.  Prosper through a healthy workplace culture.
In this blog, we will focus on developing a healthy workplace culture.  As Ken Blanchard, a best selling author including the One-Minute Manager, said, "Organizational culture is simply 'the way we get things done around here.' The organization's culture can help or hinder the success of an organization."  Peter Drucker once expressed that "culture eats strategy for breakfast."  You can have a fantastic vision or brilliant strategy, but successful execution rests on a supportive culture.
Through Ralph Jacobson's work with The Leader's Toolbox and health care organizations for the past 10 years, he has discovered that culture is shaped by the consistent intentions and actions of leaders.  Ralph says, "It is the CEO's major responsibility to ensure that the culture supports the execution necessary to achieve the organization's vision."  A prime example of this is Mark Fields, an executive of Ford Motor Company.  He remarkably  turned the company from one of bitterness, distrust and fear, and replaced it with a culture of creativity, innovation and mutual accountability.
Those who choose to invest in culture reap high levels of performance, profits, productivity, and healthy, ethical behavior within the organization.  Those who ignore it or think it is a waste of time often experience high turnover, high absenteeism, high operational costs, and less than stellar performance levels.  Your actions and decisions today reinforce, impact, and shape your organization's culture and work environment.  A healthy culture moves your organization positively toward your goals and helps you adapt to change.
Executive leaders have a fundamental role to play in the organization's health and culture through their integrity, actions and leadership, while a group of employees can highly influence culture by their attitudes and behaviors.  Success comes when all are aligned…when everyone involved works together to create a healthy corporate culture that competes productively in their market segment to realize profits.  The bottom line is healthy organizations have employees who feel appreciated, accepted and respected and take responsibility to sustain a healthy culture.  They are treated fairly and recognize the need to grow and continually learn.  They are encouraged to keep communication open and are involved in decision-making because they are often closest to the clients and understand their needs and desires.  Everyone shapes culture.
Cultivating a healthy corporate culture can grow your organization.  What does it take to develop a healthy culture or turn around a dysfunctional organization?
Trusted Leaders build good relationships with employees and management at all levels by increasing clarity, decreasing confusion, increasing collaboration, and decreasing politics.  As a result, the energy is focused on cohesive teamwork where everyone is working in the same direction. Trust is the glue to organizational health.  Trusted leaders motivate employees to attain goals, give constructive criticism honestly, listen to problems and seek input for solutions that build respect and teamwork within the vision of the organization.  As Patrick Lencioni puts it in his book

The Advantage:  Why Organizational Health Trumps Everything Else in Business

, "When politics, ambiguity, dysfunction and confusion are reduced to a minimum, people are empowered to design products, serve customers, solve problems and help one another in ways that unhealthy organizations can only dream about."  (For more details, read the WOA blog: How to Win the Competitive Advantage)
Clarity aligns leadership and employees at every level to the vision and mission of the organization.  Leaders have to communicate the vision and mission clearly and repeatedly so the main message of the organization can be articulated by anyone in the organization.  Because organizations today are experiencing the societal value of power that is flat, leaders have to give power to everyone not just a few at the top in order to succeed.  As a result, all employees from top management to the lower tiers of work expect buy-in in the process to produce results.
Cohesive Teams adapt to change, commit to group decisions, hold each other accountable, engage in constructive conflict and collaborate.  The team agrees to listen to the opinions and ideas of others while giving permission to speak the truth when the culture is dysfunctional. As a result, the team is smarter when they work together.  (For more details, read the WOA blog:  Building a Cohesive, Productive Team)
High Morale  increases participation, productivity, creativity and the likelihood that they will recruit others who will benefit the organization because they love their job, feel valued, and love the organization.  They want to see the organization prosper because they want to continue working there for years to come. If morale is high, loyal employees will defend the organization when unfairly attacked and state positives about working for the organization.  To sustain the morale, upper management welcomes input continually from employees on how to improve productivity and attain high performance.  When there is poor performance, corrective action is taken quickly to ensure these problems do not happen again.   Leadership is willing to invest in keeping the high morale by calling upon specialists and consultants to give an outside viewpoint, detect problems, and  develop new maps for continued success.
Permission-giving Environment to Try New Things.  Successful organizations intentionally take time to be innovative.  For example, Google encourages employees to set aside one day a week to think outside the box, share new ideas and ask questions.
In order to stay ahead of the curve, now is the time to invest in a healthy culture so you can adapt to change and fuel the momentum for successful growth.
References:
"Biggest Companies of the 2012 Inc. 5000" http://www2.inc.com/ss/inc5000/jillian-donfro/top-companies-revenue-2012-inc-5000#0
"100 Best Companies to Work For" http://money.cnn.com/magazines/fortune/best-companies/
"The Advantage:  Why Organizational Health Trumps Everything Else in Business" by Patrick Lencioni http://www.tablegroup.com/oh/
"They're Hiring" http://money.cnn.com/galleries/2012/pf/jobs/1201/gallery.best-companies-hiring.fortune/index.html
"Organizational Culture Counts" by Diane Sarah Begin http://www.hrsbconcepts.com/articles/KIG-03.2007OrganizationalCultureCounts.pdf
"7 Surprising Reasons Why You Have Healthy Corporate Culture" by Dr. Doreen McGunagle on Wed, Sep 12, 2012 http://www.globalstrategicmgmt.com/blog/bid/88658/7-Surprising-Reasons-Why-You-Have-Healthy-Corporate-Culture
"Leadership & Culture are two sides to the same coin" by Ken Blanchard http://thecoachingsource.com/2011/01/18/leadership-culture-are-two-sides-of-the-same-coin/
"The CEO's Primary Agenda" by Ralph Jacobson  on Thursday, September 13, 2012 in H&HN (Hospitals & Health Networks) Daily  http://www.hhnmag.com/hhnmag/HHNDaily/HHNDailyDisplay.dhtml?id=6210001028
"The Moment of Truth" by John G Self  September 24, 2012   http://www.johngself.com/self-perspective/