Events That Payout More Than They Cost: Maximizing Your 2018 Social Calendar
December 12, 2017 | By Wayne O'Neill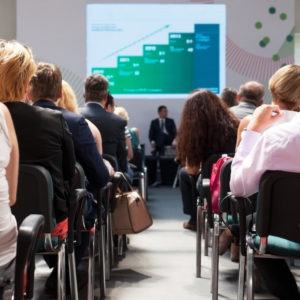 Most companies decide by consensus which conferences their business development team will attend.
In a team meeting, someone will bring up an event and ask, "What does everybody think? Should we go to this conference?"
That's fine if you're deciding where to have a team lunch.
That's not fine if you're deciding where your company's event attendance budget and time will be spent.
Every year, there are dozens of trade shows, conferences and conventions to choose from. With 2018 just weeks away, how can you make sure that your business development team is attending the right events this year … and getting the most out of them?
Leadership Must Own the Strategy
This may feel like one more thing on your to-do list as a leader — but it will actually save you a lot of time and money if you do it right.
Left to their own devices, your business development team is likely to attend events that look interesting, and where all their friends will be. Can you blame them?
From a management standpoint, this is a big waste of your budget — and it doesn't help you win projects from smart clients. The first step to increasing your team's event attendance ROI is owning the strategy.

Go Where the Owners Will Be — and Come Prepared to Be Educated
Now that you're in the driver's seat, it's time to make the decisions about where your business development team will spend their time this year. It's critical that they go where project owners and decision-makers are going to be — not just social events.
If your team is primarily marketers, for example, a marketing event is not the most effective place to grow the business. (Not to say there's no benefit in a marketing event — but that would be considered professional development, not business development.)
So what events are most effective? Find out where your project owners, customers and decision-makers will be — and start your list with those. Those events are where people will be talking about the business and political issues they face on a day-to-day basis.
This is critical, so let's say it again:
To grow your business, your team must attend events where owners are hyper-focusing on their business and political issues.
Only when your team is educated on the issues your target clients are facing can they interact with those clients in the most meaningful ways. Armed with this insight, your team can come up with real solutions that your company can provide.
Go Deep, Not Broad: Embed Your Firm
Now that you have a list of events where owners, customers and decision-makers will be, narrow the list down even further to more local events.
It's not that events across the country are bad — but your company can have a bigger impact at local or regional events. Going local enables your company to embed itself into the community. Your team will have the opportunity to talk to the same people multiple times when they concentrate on local events, and this helps them build relationships and expand your network in positive ways.
The real value of attending local events is locals seeing your team's faces again and again.
3 Ways to Maximize Your Event ROI
As a leader, there are three things you can to do execute and manage an effective strategy for growing your business by attending events:
Have someone in your organization keep track of all the events going on, and which ones your team will be attending. This will help prevent rogue attendance — where team members randomly sign up for and attend events with no strategy — which dilutes the impact your firm can make in the marketplace.
Regularly reassess which organizations you are spending time on. If you and your team are not getting any value out of an event, or you're seeing too many peers and not enough owners, it's time to take that event off your list. Cull your list on a quarterly or semi-annual basis.
Make sure your team is prepared to talk to prospects about business and political issues. Attending an industry event is not just a social occasion. It's an opportunity to gain insight and make real connections. Coach your team to use the 5 Key Questions when talking with a prospective client. In addition to the connection benefits, talking about business and political issues with people you meet at conferences can help you gauge who's really connected in the market, and who you should spend your time on.
The Bottom Line
You have limited budget and your business development team has limited time to attend events throughout the year. Zero in on the events where there is the most opportunity for business growth, and your company will experience higher ROI.
And remember, as the leader, you must own the strategy. Don't leave these decisions up to your business development team, or they'll likely do more socializing and less selling.