Dawning on a Different Age: The Evolution of the College Campus
February 10, 2014 | By Wayne O'Neill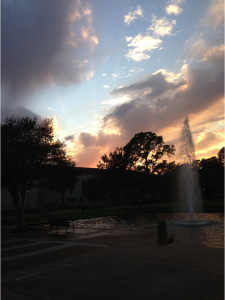 Higher education is under attack for its deliverable. The deliverable is not only jobs. But a career in which you can make a good living – and that it leads to a career path. What's going on here?
Why the evolution?             
Colleges and universities have to change, because the cost is rising and, as a result, the needs and expectations of students and parents are changing. When you start spending $150,000 or $200,000, rather than the $50,000 most of us paid for our education, you've got an investment that you expect to see a big return.
What's really different?
Two things are going on, one is MOOCS, which stands for Massive Open Online Course. It's a new form of online education, and it adds speed. But it only supplements what students are doing offline and in-person and it isn't a replacement entirely for all classrooms. Collaboration between teachers and peers are still important. The second thing that is important in changing campuses is how schools connect to corporations and people where jobs are going to be ready for students after they walk across that stage in their cap and gown.
It's a physical as well as an emotional transformation. It used to be that the college campus and the town were separate entities. Now, those things are becoming integrated, as are the students. The third evolution on campus is the mixed-use in housing. It was once just dorm related. Now it's cafes, shopping and restaurants that are pulling the population in the campus and integrating students with the population.
It used to be an ivory tower mentality. But now, today, students and their parents are thinking, "If I'm going to be spending $100,000 on an education, what am I (or my son or daughter) going to be walking out of there with, other than a piece of paper?" More in-depth internships, learning a different way, getting deeper wisdom than what you could get from a classroom setting: that's what students and parents are shopping for when seeking out a university.
What does the community mean to you?
University of Houston, to use an example from my home state, now has a competitive advantage. Before, students all wanted to go to Texas A&M, who are now building the Bio Corridor. They're transforming their campus because they know that if you're sitting in Houston, you have an advantage. You're close to downtown, you're close to the Energy Corridor, you're close to the community.
The dynamics of the college campus are changing. Before, you went off to college and got away from your past. But now, we see that staying connected to a network that could greatly influence your career and job opportunities is what just makes sense. Before, being involved on campus helped dictate your future job opportunities. Now, students are networking with professionals throughout their undergrad and utilizing resources that weren't available before.
Here's the bottom line…
Things are changing, and no industry is immune to it. For any organization to survive, they need to adapt.
Whether you're the dean of a University or a CEO of a Fortune 500 company, considering the needs, wants, and expectations of the end user is what will give you an advantage.
A college community is no longer restricted to campus grounds and dorm rooms. Consider if your business should create alliances with students, so that you'll have top pick of graduating seniors.