Congrats On Securing The Big Meeting- Now What!?!?
August 27, 2012 | By Kevin Cray

The #1 goal of most salespeople is to get The Big Meeting scheduled with key decision makers. Guaranteed, that securing "the" meeting is the first thing on any to-do list of a typical sales team when evaluating a new prospect. But, is there a more effective process that achieves better results?  What should be done before that first meeting? Then, once you have secured the meeting, what are you going to talk about that will make an impact producing profitable results?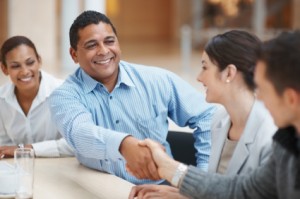 One ineffective approach, or "clumsiness", among typical sales teams is to simply present your normal sales pitch at a high level meeting.  Quite frankly, executive level decision makers have already listened to every kind of sales pitch in the book- and if that is your approach, it very well may be your first and last meeting with them.
Unless your offering is a key to growth for the prospective client, their agreement to an initial meeting may really only be a tactic to avert your continued sales calls. However, a truly successful sales team will adapt their conversation to cater to the specific needs of each client in varying scenarios. In order to have this type of flexibility in your team it requires getting to know the client in advance, then tailoring your service to not just provide a technical answer but rather an overall value-add. What you want is beyond a standard solution- you want to deliver impact.
Some things to consider before rushing into a meeting:
1.  Preparation is everything.  Preparation translates into respect, and respect is key. Why?  It shows you are invested.
Key elements in preparing and gaining respect include:
Creative discovery of business & political issues affecting your client
Provocative solutions to those business & political issues
Multiple paths on how to leverage solutions
2.  Determine what your impact is going to be on their organization. Impact doesn't mean benefits; center your offering to help them get to where they want to go strategically. Example:  By purchasing your software, the client will operate more efficiently; therefore, they can do the same amount of work with x less FTE on payroll.  Putting it in terms like this will let them see that they can use money saved on the salaries of x FTE and put that money towards funding new projects.
3.  Know what you are really getting yourself into. Has your company under-performed with them in the past? What does the client decision-maker really think the meeting is about?  Has the meeting been set up properly (everyone's expectations and agenda understood), or were they forced into having to have a meeting with you? All of these need to be considered; otherwise you could find yourself in a session with an unhappy person.
4.  Do you really understand what the client is trying to accomplish?  Knowing their personal motivators for purchasing your product or service, and how it is tied to their strategic growth plan, allows you to differentiate yourself from the noise of so many other competitors in the marketplace vying for their attention. It shows that you don't just want to be a vendor, but rather that you want to be a partner in growth.
Clients can tell when you have done intelligence gathering; it indicates to them whether you are there to just make a quick sell, or to build an enduring and profitable relationship. If you want your own company to grow and succeed, you need to show your clients that you want the same for them in return.